Spotlight on Damage to Ukraine's Agricultural Infrastructure since Russia's Invasion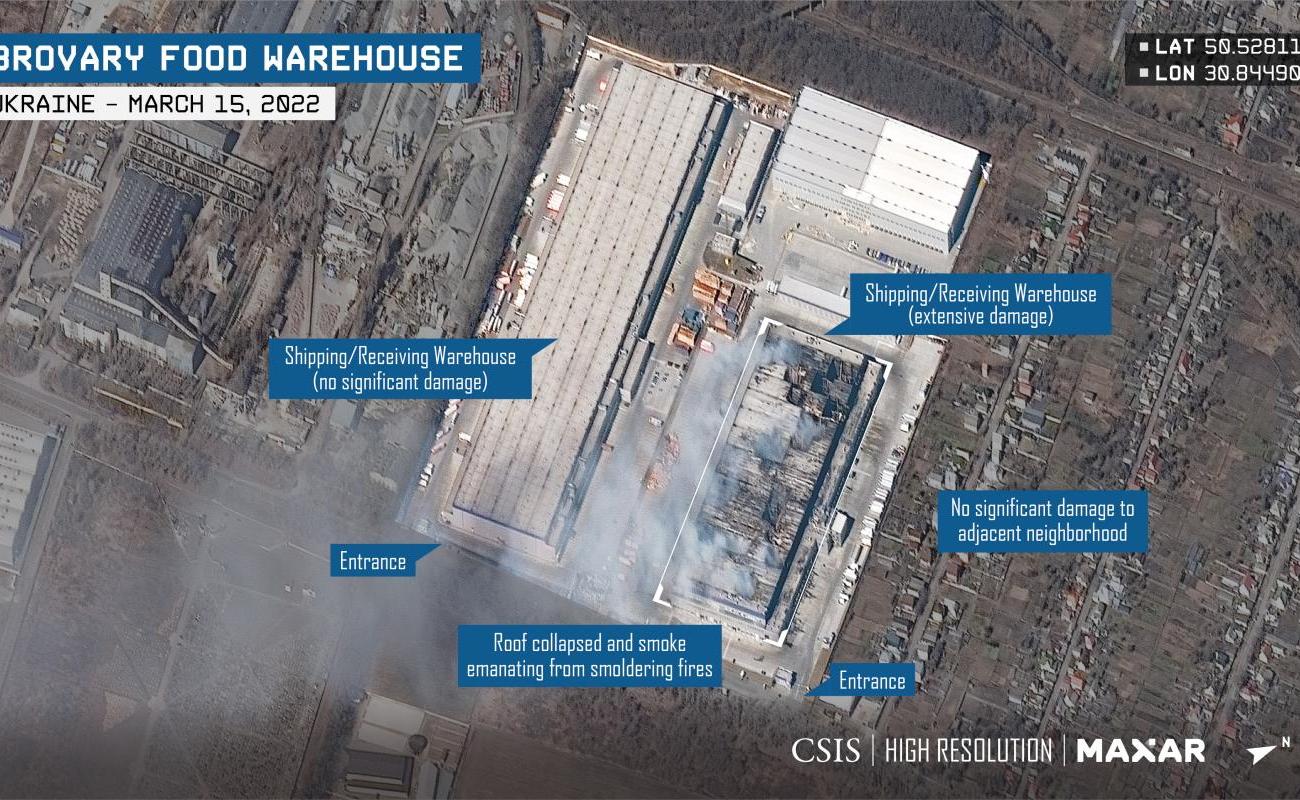 Russia is targeting key agricultural infrastructure across Ukraine, including grain silos, railways, food warehouses, and ports. Since late February, Ukraine has been shipping agricultural exports via rail, road, and river routes at a fraction of its previous seaport capacity. Tens of millions of tons of agricultural products are blocked in port cities, alternate export routes face bottlenecks in neighboring states, and Ukrainian farmers are quickly running out of storage for harvested grain.
Brovary Food Warehouse
Russia is taking advantage of the transportation bottlenecks caused by port blockades to target Ukraine's food storage facilities. According to Ukraine's ministry of defense, Russian forces have attacked grain silos across the country and stolen an estimated 400,000-500,000 metric tons of grain from occupied regions to increase Russian competitive advantage in the export market.
Most recently, Russia destroyed one of Europe's largest food storage facilities in Brovary, roughly 19 kilometers northeast of Ukraine's capital of Kyiv. In a public statement, the mayor of Brovary stated that every food store in the city was attacked on the same day. The mayor said, "It wasn't an accident. It was intentional. The entire food warehouse and 50,000 tonnes of food were destroyed.
The attack was first reported on March 12, 2022, and likely occurred at the same time Russia's 40-mile-long convoy was redeployed towards Kyiv, after having been stalled for a week. This suggests that the attack on the Brovary food warehouse was part of an attempt to cut Kyiv's access to vital food stores as Russian forces tried to seize the city. Russia also employed this strategy against the port city of Mariupol, where citizens were forced to collect rainwater and ration food supplies during the months-long siege.
High resolution satellite imagery acquired on March 15, 2022, shows that one of the facility's two large warehouses suffered catastrophic damage, with its roof partially collapsed and smoke rising from smoldering fires. No substantial damage was observed in the surrounding residential areas, suggesting that Russian forces intentionally targeted the warehouse.
Notably, the external walls are still standing, and there appears to be little or no debris on the surrounding facility roads, collateral damage to adjacent buildings, or damage to adjacent light industrial buildings or civilian housing—all of which would be expected from the delivery of a large bomb and resulting explosion. Additionally, no craters of significance were readily visible in the imagery. This suggests, but is not conclusive of, either a precision strike by small air-delivered munitions, or a ground attack that precipitated internal fires and caused the subsequent collapse of the roof. The facility remains partially operational.
Chuguyevsky Railway Bridge
Russia appears to be systematically destroying Ukraine's key transportation infrastructure—vital for agricultural commodities, humanitarian aid and evacuations, and other lifesaving supplies. In addition to targeting port cities to cut off Ukraine's ability to export agricultural commodities, Russia has targeted Ukraine's railway infrastructure and the power stations that keep trains running. The invasion has also led Ukrainian forces to destroy bridges within their country to prevent Russia from supplying their troops and to slow Russian forces' advance on target cities.  
The Chuguyevsky Railway Bridge, roughly 2.4 kilometers south of the city of Chuhuiv, is an example of one such lifeline destroyed since the war began; whether this bridge was destroyed by Russian or Ukrainian forces is unclear. Located roughly 37 kilometers southeast of Kharkiv, Ukraine's second-largest city, the railway bridge is an important transport route in one of the most agriculturally and industrially productive regions of the country.
High-resolution satellite imagery acquired on March 13, 2022, shows that three of the bridge's six spans were partially dropped by apparent explosions at three supporting piers, rendering the bridge unusable. Minimal collateral damage or bomb craters are apparent in the image, suggesting that the damage was caused by engineer-emplaced explosives rather than artillery, rocket, or bomb attacks.
The Kharkiv oblast is the largest regional producer of wheat in Ukraine, accounting for 8 percent of domestic production. Transportation infrastructure in this region is crucial for moving grain supplies within the country and towards port cities. Damage to this bridge completely cuts off rail access to this location in both directions, further limiting Ukrainian farmers' abilities to transport their goods across the country or for export.
Conclusion
The UN Food and Agriculture Organization estimates that 8 to 13 million additional people will face undernourishment in 2022 to 2023 if Ukraine's grain exports are unable to freely move throughout the country and overseas. Unless Russia's war in Ukraine is swiftly curtailed, continued attacks on Ukraine's agricultural production will not only deteriorate food insecurity in Ukraine, but will also exacerbate food insecurity worldwide.