Eight PCR testing machines donated to the National Institute of Public Health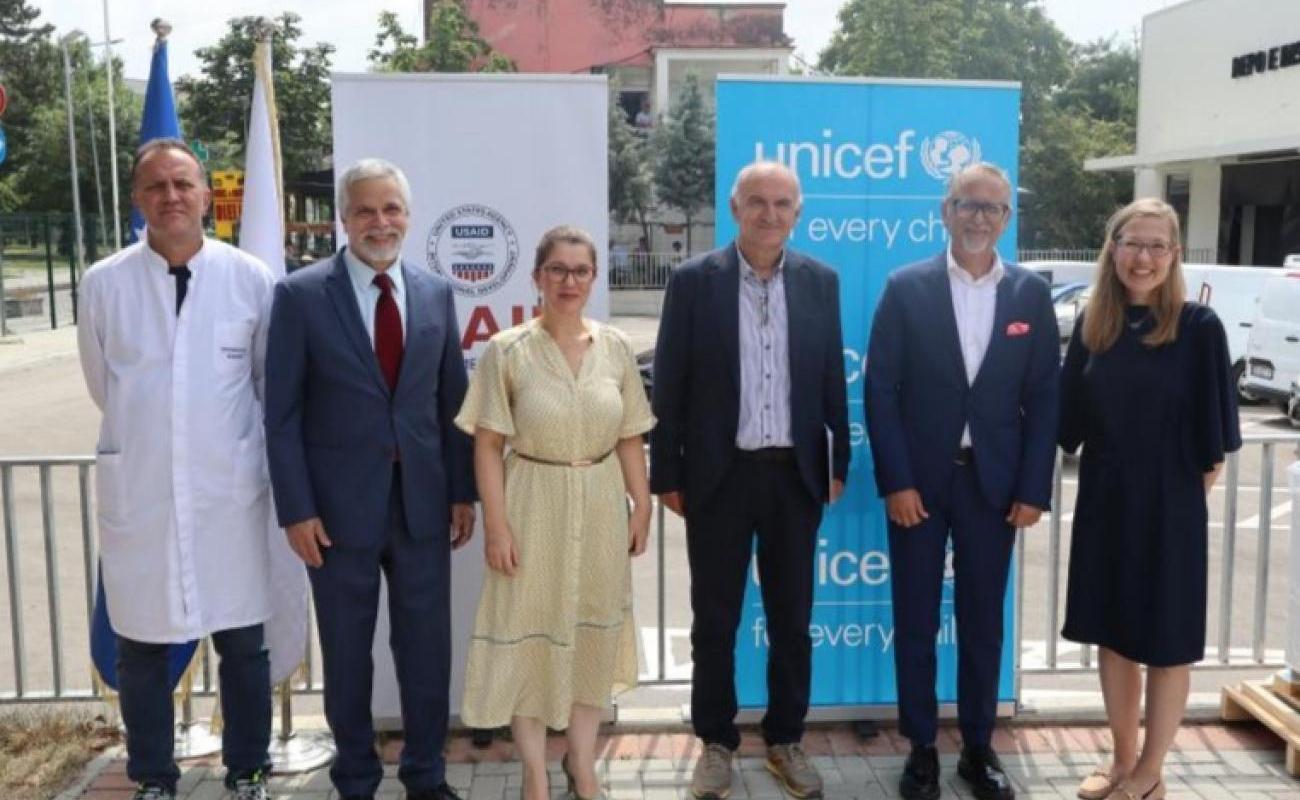 Prishtina, 17 August 2023: UNICEF, with the support of USAID, donated eight state-of-the-art PCR equipment units to the Ministry of Health (MoH) and the National Institute of Public Health (NIPH). This equipment will play a crucial role in advancing disease surveillance, preparedness, and control.
Over the past three years UNICEF, together with USAID, has been a key partner to the Ministry of Health in the response to the COVID-19 pandemic. With a focus on enhancing access to COVID-19 vaccines and testing, the partnership also took robust measures to reinforce the NIPH's capabilities in disease surveillance and epidemic readiness.
The COVID-19 crisis served as a stark reminder of the urgent need to strengthen public health infrastructure to more effectively manage unforeseen health challenges. Historically burdened by under-investment, including in disease surveillance, the collective efforts of UNICEF, USAID, and the NIPH aimed to address this critical gap in Kosovo's public health system.
"Since health is one of the priorities of the government of Kosovo, as evidenced by the increase in the budget— the highest so far— one of our objectives is to invest in prevention to minimize any potential consequences from future pathogens that may threaten public health. These equipment will be helpful in improving the quality of services and working conditions for our healthcare professionals. With the introduction of these new equipment, diagnostic capabilities have been enhanced in public health institutions, and the range of services available to citizens has been expanded. "We are grateful to our partners," said Dr. Arben Vitia, Minister of Health.
This donation of cutting-edge equipment, powered by real-time PCR technology, is not limited to COVID-19 testing but also enables swift detection of a spectrum of respiratory diseases, including flu and Streptococcus A, as well as other infectious diseases like Tuberculosis. A total of eight such units with a value of 365,000 USD were delivered to the NIPH in July 2023, to be used at the central institute, six regional centers, and the Infectious Diseases Clinic laboratory at the University Clinical Center of Kosovo.
"Among the pandemic's many lessons, we have learned that everyone - government institutions, donors, and citizens alike - must prioritize a commitment to building and continuously improving its health systems so that we are prepared to respond effectively and rapidly to new diseases or even, unfortunately, another pandemic." Said Mr. Ken Collins, acting Mission Director for USAID Kosovo.
The ceremony and symbolic handover of the PCR equipment units was attended by esteemed guests including Minister of Health Dr. Arben Vitia, NIPH Director Prof. Dr. Naser Ramadani, Acting Mission Director for USAID Kosovo Mr. Ken Collins, and Deputy Head of UNICEF in Kosovo Ms. Larissa Bruun.
"This donation, made possible by the generous support of the people of the United States of America, will improve Kosovo's capabilities in responding to epidemics and bolsters its overall preparedness for public health crises. We are not only recovering from the COVID-19 pandemic, but we are also building back better, which will be of critical importance to children and families in the future" said Larissa Bruun, Deputy Head of Office for UNICEF Kosovo.