Russia moving nuclear warheads to Belarus, says dictator Lukashenko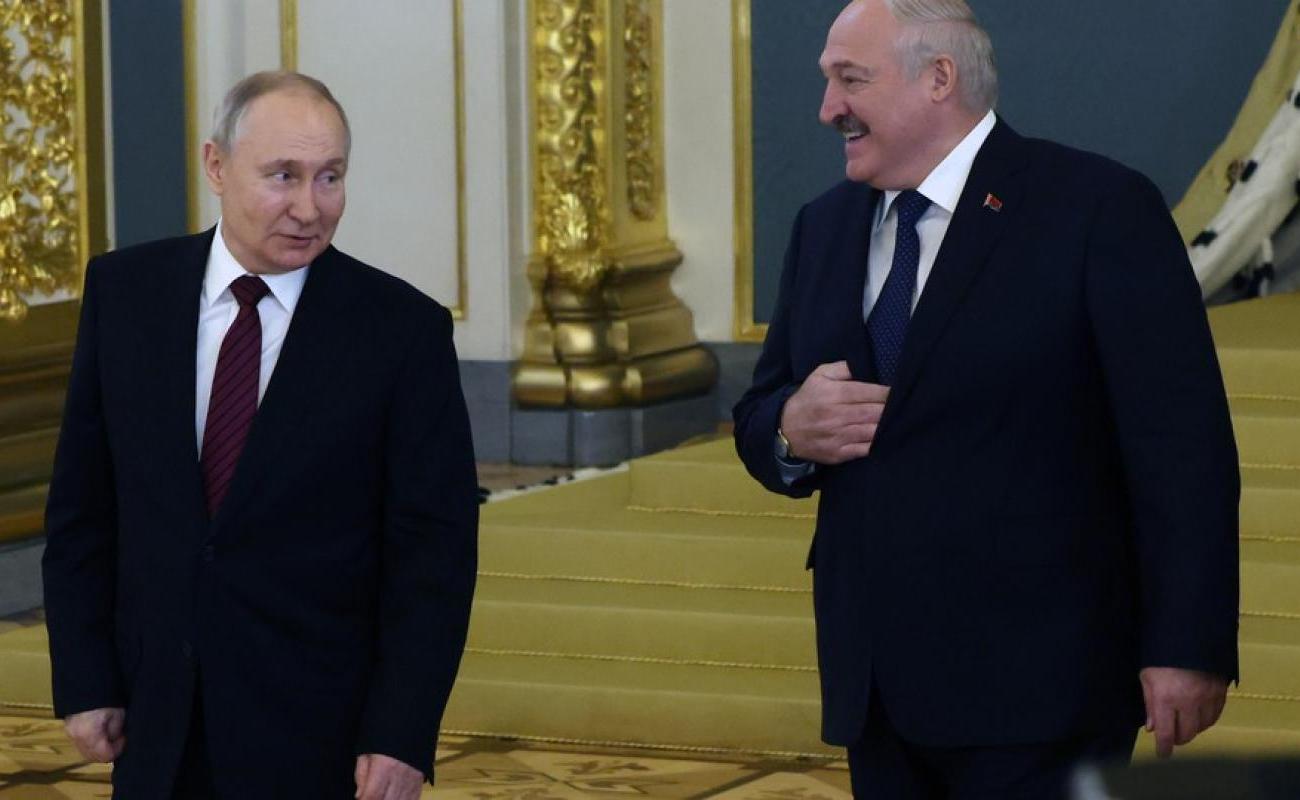 The Belarusian ruler, Alexander Lukashenko, has said that Russia has begun moving tactical nuclear warheads for storage to Belarus, adding that it was possible that the weapons had already arrived in his country.
"We had to prepare storage facilities and the rest over there [in Belarus]. We've done all of that. This is why the relocation of nuclear munitions began," Lukashenko said during a summit of the Eurasian Economic Forum in Moscow.
Asked if the weapons had already arrived, he said: "Maybe. I will go and take a look."
The remarks came hours after Russian and Belarusian military officials signed a pact that provides for Moscow to deploy tactical nuclear weapons in Belarus, marking a shift in the Kremlin's nuclear posture that could raise the stakes of any future instability in Belarus.
The plan to deploy tactical nuclear weapons on foreign soil is Russia's first since 1991. The Kremlin has defended the decision saying that it is being provoked by western powers supporting Ukraine.
Russia has said it will maintain control over the tactical nuclear weapons, which may be launched on Iskander-M missiles or from Su-25 planes, both of which Belarus has in its arsenal. Belarus borders three Nato countries and has missiles that could reach several capitals.
The US also has about 100 such weapons stationed at bases around Europe.
The transfer will further align Russia and Belarus' militaries as Russia seeks a closer alliance with Minsk, which some have predicted will lead to Belarus's loss of sovereignty. The Russian defence minister, Sergei Shoigu, said the two countries would look for other ways to integrate their militaries.
That decision came as Russia is bracing itself for a potential Ukrainian counterattack that could put Moscow on the defensive in its 15-month-old war.
The head of the Wagner group said his Russian paramilitary organisation had begun to withdraw from the city of Bakhmut and would hand all its positions over to the regular Russian army by 1 June.
Yevgeny Prigozhin, an ally of Vladimir Putin, made the announcement during a visit to the ruined city, telling tank crews and other commanders that they would receive new orders soon and should withdraw to the rear.
"We'll hand over our positions, ammunition, everything including dry rations, to the troops," meaning the Russian army, he said. Then, relishing another chance to ridicule the military, he said he would leave them two of his fighters in case things get "too hard".
Ukraine's deputy defence minister said on Thursday that Russia had begun to replace Wagner units with regular troops on the outskirts of Bakhmut, but that Wagner fighters remained inside the city.
Russia recently claimed to have finally captured the city after nearly 250 days of fighting – a statement Kyiv disputes. Most analysts expect Ukraine to launch a counterattack, potentially threatening the Russian military's hard-fought gains in Bakhmut and other areas of the front.
Prigozhin has grown extremely critical of the Russian military, accusing Shoigu and other senior military officials of depriving his troops of shells and other ammunition. He said Wagner lost more than 20,000 men in the battle for Bakhmut. The mercenary group includes thousands of convicts recruited from Russian prisons.
A Ukrainian official on Thursday suggested the counteroffensive would not mark a significant change shift of gear. "This is not a 'single event' that will begin at a specific hour of a specific day with a solemn cutting of the red ribbon," wrote the presidential adviser Mykhailo Podolyak.
Russian militias aligned with Ukraine also launched a cross-border raid earlier this week, setting up chaotic battles in the Belgorod region in some of the first sustained fighting on Russian territory since the beginning of the war. Ukraine has denied any connection to the fighters.
A Ukrainian official on Thursday told Reuters that Kyiv had no connection to a "strange and pointless" drone attack against the Kremlin earlier this month. Video showed several unmanned aerial vehicles flying over the Kremlin walls before exploding in a flash of flight, causing damage to a building facade.
The New York Times reported that assessments by US spy agencies showed the attack was probably orchestrated by one of Ukraine's special military or intelligence units. Moscow blames the attack on Ukraine.