EC President von der Leyen handed over keys to Apartments for 27 Families in BiH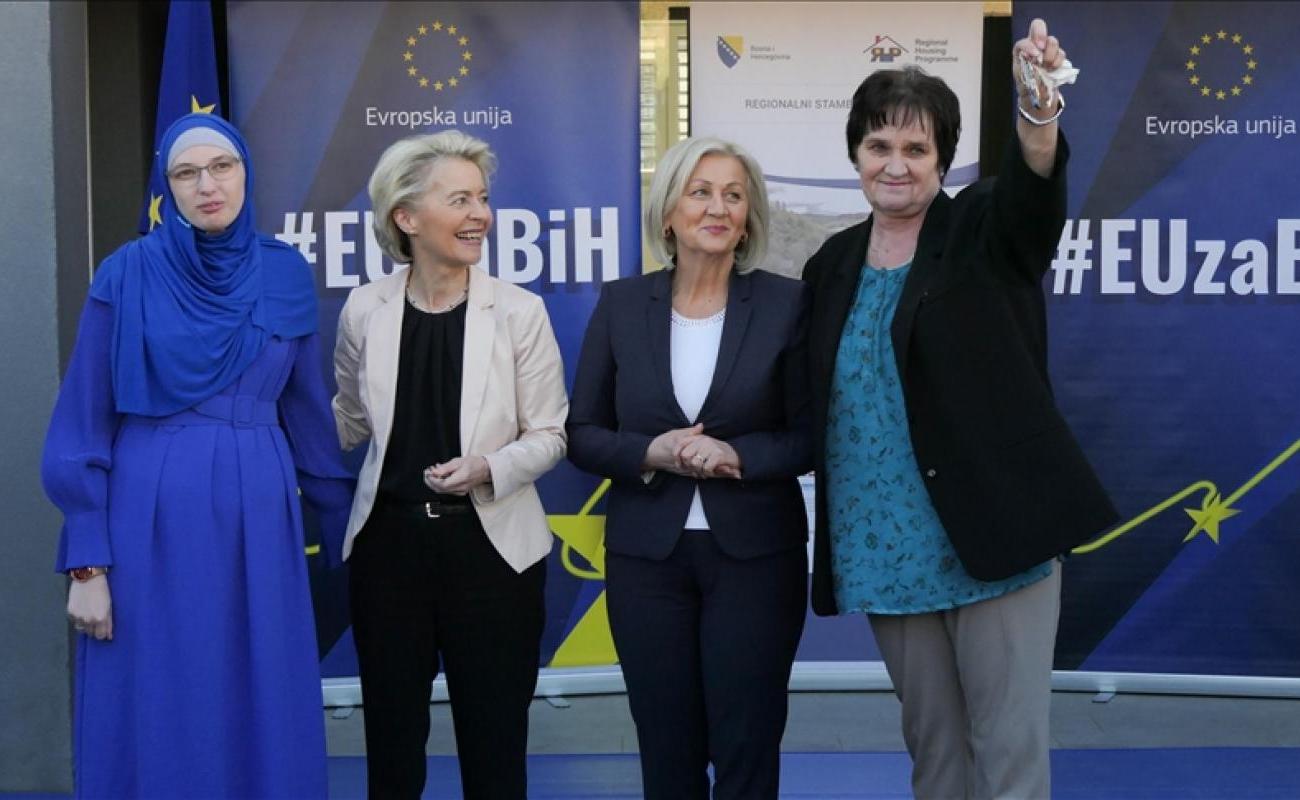 As part of her visit to Bosnia and Herzegovina, the President of the European Commission Ursula von der Leyen attended today a ceremonial handover of 27 apartments constructed under the Regional Housing Programme in the municipality of Vogošća, near Sarajevo. Following the ceremony, President von der Leyen had an opportunity to talk to some of the families who benefitted from the programme.
President von der Leyen, said: "For the past 10 years, the Regional Housing Programme has provided a home to nearly 36000 people – refugees and displaced persons from the wars of the 1990s. The EU has proudly supported the programme since the first day. Today, 27 families get a new home. A heart-warming moment".
The Regional Housing Programme is a joint initiative by Bosnia and Herzegovina, Croatia, Montenegro and Serbia aiming to provide durable housing solutions to several categories of vulnerable refugees, internally displaced persons and returnees following the 1991-1995 wars. The European Union is the biggest donor to the Regional Housing Programme with 238 million euros in grants or 80% of the total funds provided.
The handover of these apartments brings the total number of housing units built in Bosnia and Herzegovina under the Regional Housing Programme to 2,800, which means that around 9,000 of the most vulnerable refugees, displaced persons and returnees have received housing as a result of the Programme.
President Von der Leyen was accompanied to the ceremony by the Chairwoman of the Council of Ministers of Bosnia and Herzegovina, Borjana Krišto, where they were met by the Minister of Foreign Affairs of BiH, Elmedin Konaković, the Minister of Communications and Transport of BiH, Edin Forto, the Minister of Defence of BiH, Zukan Helez,  the Minister of Civil Affairs, Dubravka Bošnjak, the Minister of Refugees of the Federation of BiH entity, Nerin Dizdar, the Mayor of Vogošća, Migdad Hasanović and the Governor of the Council of Europe Development Bank (CEB), Carlo Monticelli. Serving as implementing partner to the EU, the CEB has managed RHP donor funds and accompanied the countries in the implementation of the housing projects over the past 11 years.
The ceremony was also attended by representatives of the UNHCR, OSCE and other donors who contributed to the completion of the Regional Housing Programme.