Swiss portfolio on vocational education launches new phase for 2023-2027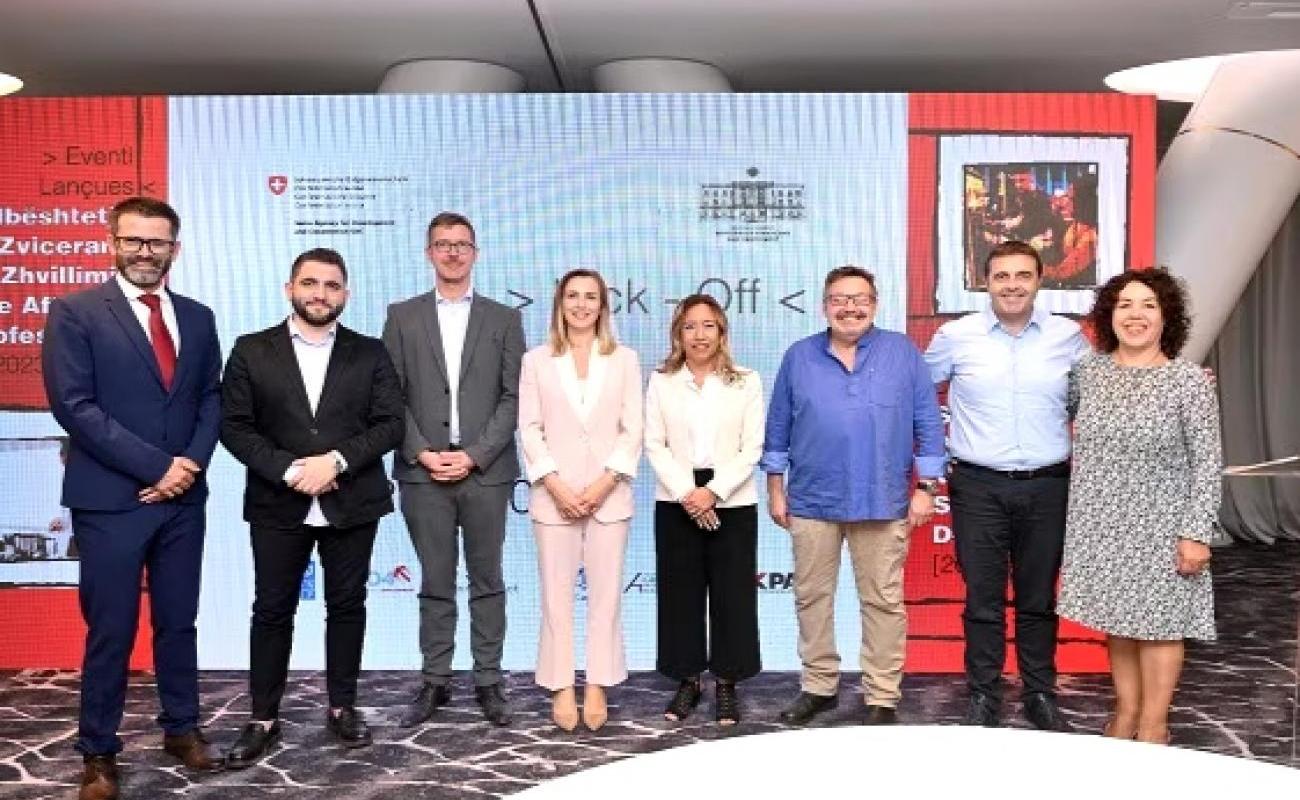 A new collaboration kicked off today between two VET projects funded by Switzerland and implemented by UNDP and Swisscontact in cooperation with the Ministry of Finance and Economy
The Skills Development for Employment Programme (SD4E) and Skills for Jobs (S4J) projects have now aligned their framework of activities and will integrate further their support to Albania's vocational education sector. This joint portfolio will ensure that interventions create synergies for more impact.
"I am happy that we are here today all together to celebrate the official start of both projects and wish you the best of success with their implementation. Thanks to the full collaboration between SD4E and S4J, we hope to see further synergies realized, aiming for a sustainable transfer of our joint achievements", said Philipp Arnold, Deputy Head of Mission at the Embassy of Switzerland.
Monica Merino, UNDP Resident Representative said: "This successful and challenging journey towards systemic change in the area of Vocational Skills Development is not over yet, but a significant contribution has been made. Several processes are underway to ensure that the results are sustained and further enhanced, and the knowledge and expertise are transferred. That is why it is a great opportunity for our two projects to continue to contribute at the policy as well as provision level. Grateful to the Ministry of Finance for the partnership and the Swiss government for the long-standing substantive engagement"
"At Swisscontact, our core values are closely tied to our ongoing partnership with the private sector. Their active involvement serves as a guarantee of higher quality vocational education and training (VET) and is pivotal in advancing Albania's human capital agenda" said Cuan Opperman, Country Director, Swisscontact Albania.
Both projects work to ensure that vocational education and skills are improved to the degree that Albania's young people are prepared for gainful and decent employment. The SD4E focuses more on policy level and on strengthening capacities of line ministries and government agencies, whereas S4J focuses on improving the offer of vocational institutions and their cooperation with the private sector. With the new phase the two projects have renewed their plans for the period 2023-2027 and aligned their planned interventions to ensure more impact. 
In this new phase the projects have a closer link with Albania's National Employment and Skills Strategy 2030, and their activities will contribute towards improved economic development and employment. Activities will be implemented in partnership with Ministry of Finance and Economy, the National Agency for Employment and Skills, as well as the National Agency for Vocational Education, Training and Qualifications.