Rebuilding Albanian railways with EBRD and EU support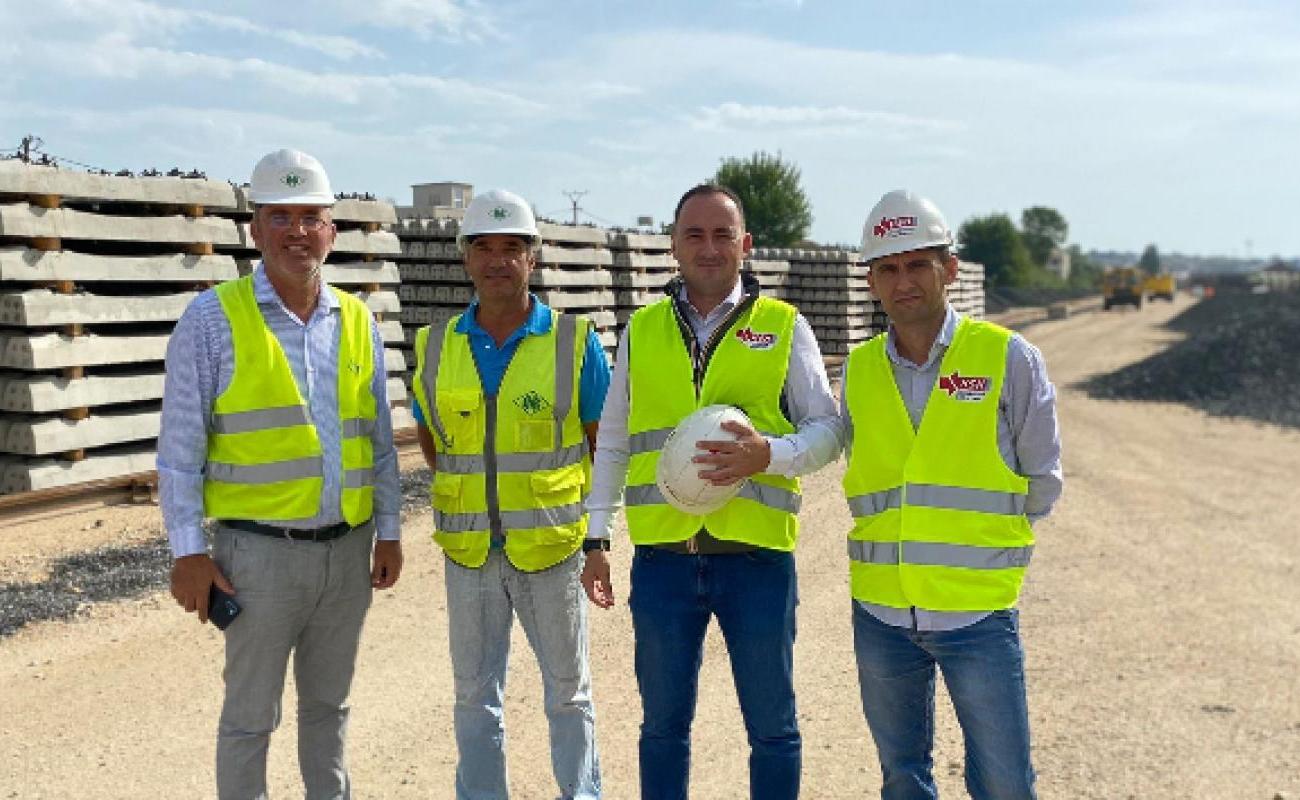 The construction site in the coastal city of Durres is buzzing with workers and machinery. They are rebuilding the 34 km stretch of railway between Durres and Tirana. Once the railway has been rebuilt and the new trains have arrived, travelling between Albania's two largest cities will take only 20 minutes.
This will be a huge milestone for Albania, where there hasn't been any investment in the railway sector for more than 30 years. The former railway and trains deteriorated over time and today there is little passenger or freight rail transport. Most people rely on cars and buses for their daily commutes, which causes traffic jams in both cities and increases air pollution.
Bashkim Kasoruho, Director of the Project Implementation Unit at Albanian Railways, has been working on the project from the beginning and sees it as a kind of railway renaissance in Albania.
"I am very proud to be part of such an important project – the first investment in the sector in so many years. People, including workers, students and tourists, are looking forward to travelling by train again. Everyone will benefit from it," Bashkim says.  
There were several challenges when the project started, which Bashkim attributes largely to a lack of human resources and capacity resulting from years of underinvestment in the sector. "However, we are now overcoming all these complexities with support from our partners. The works are now at an advanced stage."
Most of the civil engineering works have now been completed, including the construction of eight new railway bridges. Superstructure works on the upper part of the railway line are currently under way. This includes welding rail tracks and laying ballast and sleepers.
"The next big challenge is procuring new trains. We hope to finish rebuilding the railway line by the end of 2024, and then we need to secure the financing and buy new trains," adds Bashkim.
Ekaterina Solovova, Head of Albania at the European Bank for Reconstruction and Development (EBRD), noted: "As part of our support for this project, the EBRD would also be willing to finance the acquisition of new trains, maintenance equipment, and other equipment and facilities."
The railway reconstruction project is financed by the EBRD, with a loan of €36.9 million, and the European Union (EU), with an investment grant of up to €35.5 million under its Connectivity Agenda for the Western Balkans.
An additional €2.75 million in grants from bilateral donors have been secured through the Western Balkans Investment Framework.
Back in Durres, Lira Bejo, who works at the Albanian Ferries travel agency next to the former railway station, says that this has been one of the best summers in Albania. Lira hopes that rail travel will make travelling even easier for tourists.
"Many tourists would come to our agency asking where and how to buy bus tickets, how to get to Tirana. It was a bit chaotic. I hope that this railway line, proper scheduling and a ticket reservation system will make things much easier, and improve the quality of transport for tourists."
In addition to rebuilding the connection between Tirana and Durres, a new 5 km railway connection between Tirana's city centre and Tirana International Airport will also be constructed as part of this project. 
Gentian Liko, CEO of Albanian Railways, is optimistic about the future of the sector and adds that other investments are also in the pipeline.
"We are expecting to finalise the financial structure for the Vore-Hani i Hotit railway investment soon. This is a much larger project, spanning 120 km. The railway line is part of the extension of the Trans European Transport Network (TEN-T) policy's core network in the Western Balkans, and our only international link, connecting Albania with Montenegro."
These projects are among the EBRD's key priorities, not only in Albania but across the region. Ekaterina Solovova says: "The Tirana-Durres railway line will make a tangible difference to people and businesses in Albania and across the region. It will improve people's daily lives and unlock new trade opportunities. The project will also contribute to the long-term goal of building green, sustainable and integrated economies in the Western Balkans."
The EBRD has so far invested more than €1 billion in railway projects across the region, most of them co-financed with significant EU grants. Work is also under way to rebuild railways in Kosovo, North Macedonia and Serbia.
Infrastructure investments on such a large scale usually take years to prepare and complete, but they bring about significant long-term benefits. Switching from road to railway travel, which is safer and more environmentally friendly, will make travelling across the region easier and more comfortable for people and businesses.